TRIAX 115 TD - TD 110 Triax logo (RAL 7035) (122908)
The TD dish features all well known reception properties and is distinguished by its design and quick and easy mounting (about 2 minutes).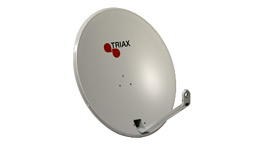 A novel elevation bracket with scale setting facilitates precise mounting, the premounted feedarm just needs unfolding, and the LNB bracket with the LNB is simply clicked on. The dish is available in steel and aluminium in sizes ranging from digital single users to multiple user applications.
The TD series consist of the types 54-64-78-88 and 110
Premounted feedarm
LNB-holder with click-on bracket
Quick and easy to mount
Premounted elevation bracket
Simple and easy adjustment
Internal cabling in the feedarm
Stable,non-slip mast bracket with one,
two or three U-brackets
Options: Duoblock and Flexiblock for two LNB's
Available in a number of standard colours and
other colours can be supplied in accordance to minimum quantity
| | |
| --- | --- |
| EAN-number | 5702661229084 |
| Size | 100 x 105 cm |
| Frequency Range | 10.7 - 12.75 GHz |
| Gain at 11.7GHz | 40.2 dBi |
| G/T LNB 0.7dB | 20.6 dB/K |
| X-polarisation | > 27 dB |
| Offset angle | 26 Degrees |
| Elevation range | 10-50/45-80 Degrees |
| Reflector type | Offset |
| Beam Width Hor | 1.8 Degrees |
| Windload @42m/s | 1222 N |
| Material | Galvanised steel |
| Finish | Polyester powder coat |
| LNB holder | ø40 + ø25 |
| Mast dimension | ø 32-60 mm |
| Wall bracket | - optional extra |
| Standards | ETS 300784 |